MetaView is designed to greatly enhance your market awareness and streamline the process of researching individual companies by reducing the number of actions in your research workflow.
If you are like me you spend a lot of time browsing the web, sifting through the vast amounts of information out there, finding out what people are up to, and keeping an eye open for good investment opportunities.
I've spent a lot of time on various sites that offer free financial news and information, but at a certain point, I realized that one could spend a lifetime looking at stocks one at a time. I wanted more of a bird's eye view of the big picture. At the same time, I wasn't ready to sign up for any financial news or data services that cost hundreds or thousands of dollars per month.
So I developed MetaView to work with an inexpensive data feed, to allow me to view entire markets at a time and to help answer certain questions I had that I couldn't easily answer previously, such as:
Every now and then I used to find out that some stock I wasn't even following was doing something really dramatic and wished I'd known about it earlier. I decided that if I could see large numbers of stock charts simultaneously, then I would be more likely to be aware of dramatic movements that much earlier.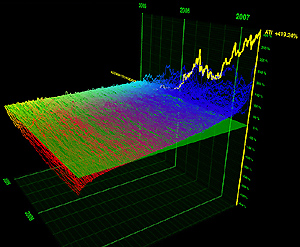 Currently MetaView does the the following:
MetaView is intended to complement the financial resources available on the web. In addition to its 3D market visualization capbabilities, it provides a hub for storing and organizing the information involved in your stock market research.
MetaView is currently available for systems running Mac OS 10.4 and higher. A PC version will be available soon. You can request to be notified when the PC version is available by clicking here.