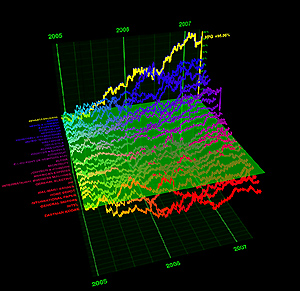 • Introduction to MetaView (7:06)

HD 720p (1280x720 123mb)
Medium (768x432 127mb)


• The Subprime Mortgage Crisis Explained (3:41)

A MetaView video illustrating how the subprime mortgage crisis started and spread throughout the financial markets.

• How to Spot the End of the Stock Market Panic (2:09)

A MetaView video revealing how individual valuation of stocks gave way to herd behavior across all markets in the fall of 2008. The mass transition from rational to irrational evaluation of equities resulting in "lockstep" behavior is portrayed visually in this revealing video.
Copyright © 2008 Group Mind Creative Computer Consulting, Inc. All rights reserved.